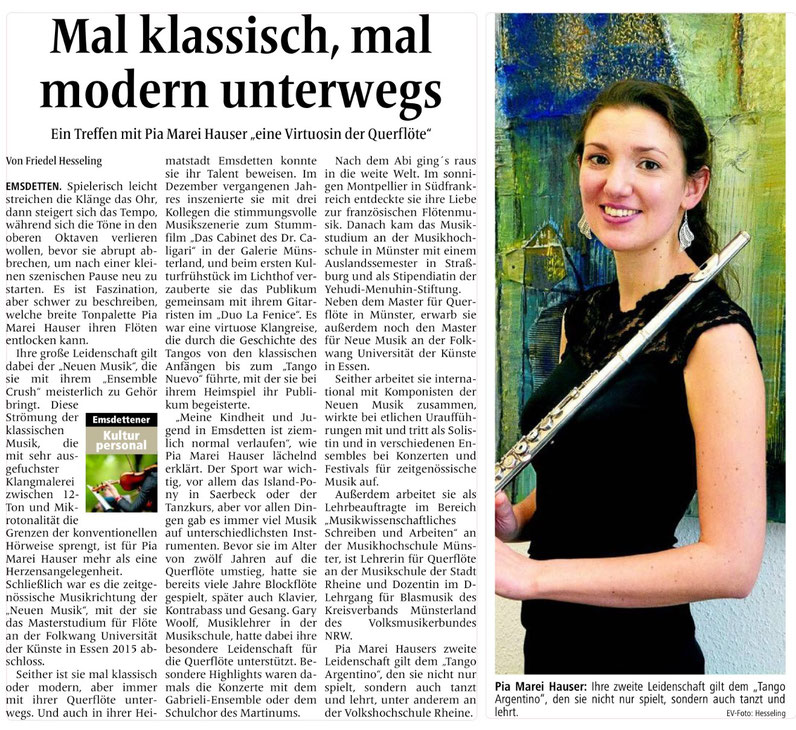 "The sounds playfully lightly sweep the ear, then the tempo increases, while the notes in the upper octaves want to get lost before they abruptly stop to restart after a short scenic break. It is fascinating, yet difficult to describe the wide range of sounds that Pia Marei Hauser can produce with her flutes." 
(Emsdettener Volkszeitung, 2018)
"The timelessly beautiful playing of the young flutist Pia Marei Hauser"
"the fascinating flute playing of Pia Marei Hauser with pieces by Carl Philipp Emanuel Bach, Heinz Holliger and Marin Marais"
(Rhein-Zeitung, 2019)
"Pia Hauser presented flute tones, once in a duet with Marin Petrov on the piano, then with Emanuel Wittersheim (sound director). Here the electronics recorded the flute tones, mirrored and disassembled them or added them to the sound pattern and created an exciting journey of sound"
(Westfälische Nachrichten, 2019)
"In 'The cabinet of Dr. Caligari' the musicians can really be free. They live out their joy of playing and are allowed to thunder and rumble, create spherical sounds, spread horror or simply melt away gently."
(Weser Kurier, 2019)
"Improvising, with a close look at the film screen, the musicians created a constantly changing sound painting ... from shy to surprisingly sonorous, they gave the historical master film a very special breath. The four musicians created an outstanding concert for Wiene's fantastic play of confusion on the screen."
(Westfälische Nachrichten, 2018)
"The two musicians mastered even the most difficult passages with great virtuosity and enthusiasm and delighted the audience with their irrepressible enthusiasm. You could have heard pins falling and there was again and again even scenic applause for the two virtuosos"
(Emsdettener Volkszeitung, 2018)
 "The audience asked for an encore. They played 'Entracte' by Jacques Ibert. The 'Duo La Fenice' once again showed their virtuosity in a true musical firework with flamenco appearance."
(Westfälischer Anzeiger, 2018)
"All four musicians acted skillfully. Soundpainting moments were mixed with poetic melodic tours ... both a great achievement of the artists and an inspiration for the audience." 
(Emsdettener Volkszeitung, 2017)
"Complete understanding of sound values, perfectly worked out by the seven actors of the 'Ensemble CRUSH' ... In the spherical beauty of George Crumb's classic work 'Vox Balaenae', the perception of the sound space was raised to mythical heights. ... masterful execution of every stage, every detail of the piece"
(Kultura, 2017)
"But they are as fit as fiddle when it comes to depicting lucid sound images ... This is where a new young generation of artists is growing up with a real spot for new terrain on the map of sounds and tones"
(Westfälische Nachrichten, 2016)
"The musical and artistic pleasure continues with the virtuoso spectacle of flutist Pia Hauser and pianist Risa Kobayashi. With Franz Schubert's "Variations on 'Trockne Blumen'" they spark a firework of joy. A great finish to an outstanding concert evening."
(Münstersche Zeitung, 2013)